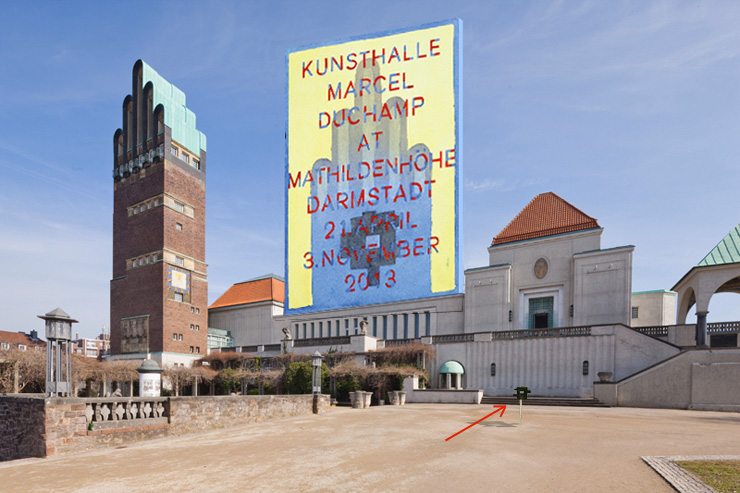 LA BROYEUSE DE CHOCOLAT
Caroline Bachmann et Stefan Banz
curated by Ralf Beil
the kunsthalle marcel duchamp is invited to replace the institut
mathildenhöhe darmstadt, germany, during its renovation.
Exposition du 21 avril au 3 novembre 2013.
The Kunsthalle Marcel Duchamp will, for the first time ever, be changing its
location and exhibiting, throughout the summer of 2013, in front of the
exhibition building of the Mathildenhöhe, which is temporarily closed for
renovation. The high-caliber theme exhibition‹LA BROYEUSE DE CHOCOLAT
(Chocolate Grinder)‹has been conceived by the Swiss artists Caroline
Bachmann and Stefan Banz, the founders and operators of the Kunsthalle
Marcel Duchamp. Instead of having 1,000 square meters of exhibition space at
their disposal, Bachmann and Banz have to make do with just half a cubic
meter for their review of one hundred years of contemporary art in the
spirit of Marcel Duchamp.
a book is published on the occasion of the exhibition:
caroline bachmann, stefan banz, ralf beil (eds.) ­ la broyeuse de chocolat:
kunsthalle marcel duchamp at mathildenhöhe darmstadt
texts by bradley bailey, stefan banz, ralf beil, martin r. dean, dalia
judovitz, and thomas zaunschirm
verlag für moderne kunst nürnberg | kunsthalle marcel duchamp no. 9
deutsch | english, 336 pages, hardcover, 14 x 10.5 cm
Institut Mathildenhöhe Darmstadt
Olbrichweg 15
64287 Darmstadt
Germany
http://www.mathildenhoehe.info
http://www.akmd.ch