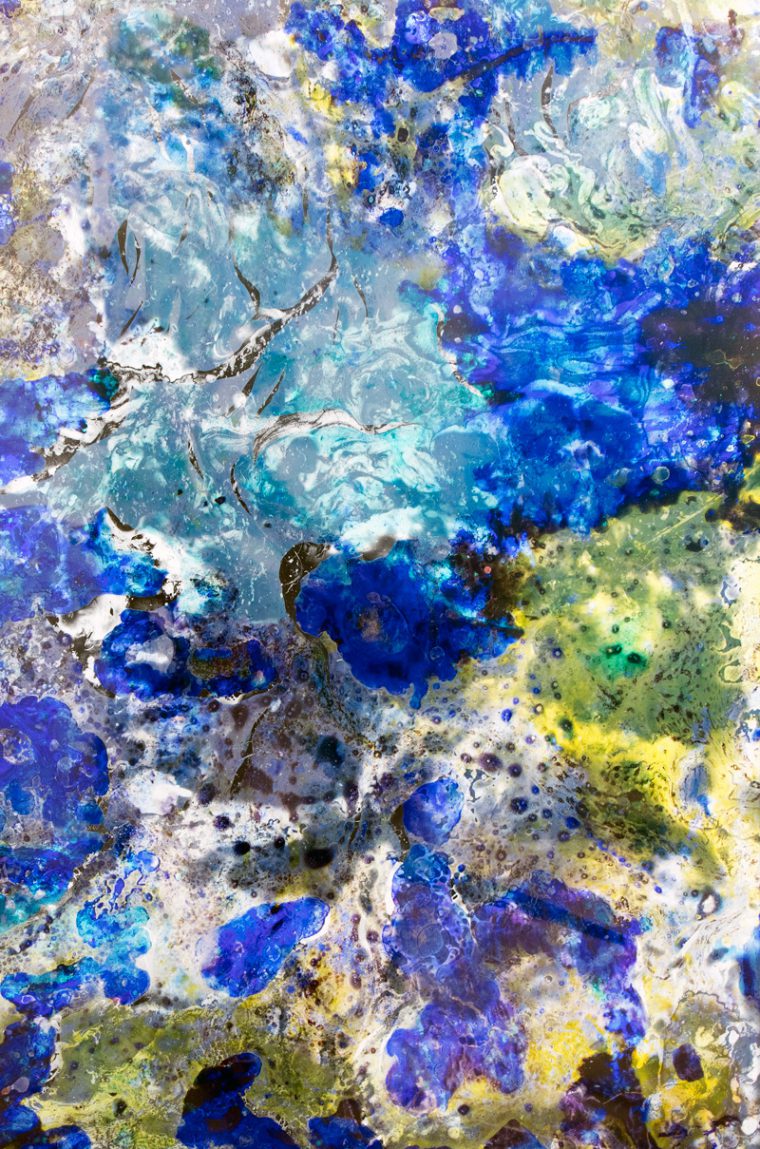 "A River Is A Rock"
Maya Rochat
Exposition du 16 décembre 2017 au 18 février 2018
Performance le vendredi 15 décembre 2017, de 18h à 21h. Performance live et sound set.
"'A River is a Rock' is Maya Rochat's first solo exhibition in Basel and with the gallery. It challenges the notion of traditional photography by playing with invented chemical processes, projections, surprising layers of photography and paint.
In 'A River is a Rock', the Lausanne-based artist expresses her frustrations with accepted boundaries in art, as she looks to transitional techniques and materials in her practice as a mode of breaking these down. Printed and projected digital and analogue images are layered; they melt into one another, encouraging the viewer to look multiple times and detect the hidden figures haunting the faded landscapes deep in the background of the abstract images.
Taking into account the architectural possibilities, 'A River Is A Rock' experiments with invading images, transparencies and light effects. Deployed in the space, the pictures have a shared vocabulary. The similar textures and colours bind different pieces and create a sense of unity. The translucent fabrics hanging from the ceiling, flow in fluid movements.
Silver, phosphorescent and fluorescent paint creates physical raptures, echoing the surrounding light. In the same manner that the boarders of each image are blurred by a second layer of organic structure, which is added and arranged either digitally or manually, the vitrine and its surroundings are brought into one view.
The opening event (on Friday 15 December at 7pm) will feature a live painting performance « Living in a painting » featuring sound artist Buvette. It will be presented as part of this immersive installation, activating the works and engaging with the viewer. With various scales and rhythms, the projected live paintings (on overhead projectors) create a moving and contemplative collage. Generating a slow ongoing process of a mutating image and reflecting a world in a permanent flux.
The projected images and paintings engage not only with each other but with the unique space of the gallery, viewable 24/7 from the surrounding public square. Whilst enclosed behind glass, the work will extend beyond its boundaries into the public space."
VITRINE, Basel
Vogesenplatz 15
4056 Bâle
T. +44 (0)20 7564 7027
W. http://www.vitrinegallery.com/exhibitions/a-river-is-a-rock